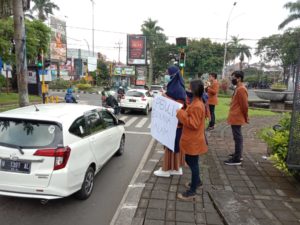 Unikama – In early 2021, many disasters hit several regions in Indonesia. Among them are West Sulawesi and South Kalimantan, where earthquakes and floods occurred. Therefore, students who are members of the Student Organization (Ormawa) and the Student Executive Board (BEM) of the UniversitasPGRI Kanjuruhan Malang (Unikama) held a fundraising action to help relieve the victims a little.
There are three location points that are targeted by students. Precisely at the intersection of the red light in Janti area, the intersection of four Mergan villages, and the intersection of four in Dieng area. They approach the motorists who stop at a traffic junction.
Syamsudin as the Student President (Presma) explained that this social action was a form of student concern to help victims of natural disasters.
"Our main goal is to help victims in West Sulawesi and South Kalimantan. In addition, through activities like this one can strengthen the relationship between the Unikama Ormawa, "he said.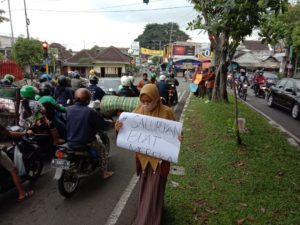 Through this social action activity, Ormawa and BEM Unikama intend to carry out moral responsibility as students, which is expected from this activity to help victims of natural disasters that occur in Indonesia.
"This fundraising is held in two ways, namely offline or taking to the streets on 11-13 February 2021 and online from 11-17 February 2021," he added.
The funds obtained will be channeled to victims of natural disasters in South Kalimantan and West Sulawesi through the Care Volunteer Team in Malang.
"Later it will be distributed to affected places. So, we also contacted some volunteers who could get us there. Especially for victims who were affected by the earthquake in West Sulawesi and the big floods that hit South Kalimantan, " he concluded.
This action received a positive response from the surrounding community, especially the motorists. They are very supportive of the social actions carried out by students.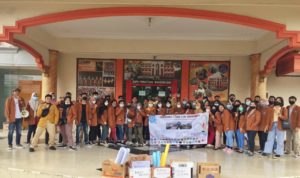 "I really appreciate the activities carried out by students. During a pandemic like this, students dare to take social action to help victims of natural disasters. Hopefully what these students do will bring blessings to others, both victims and fundraisers, " explained Zaky, one of the local community members.