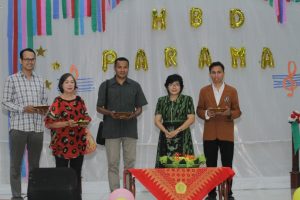 UNIKAMA – Commemorating the 33rd Anniversary of UKM (Student Activity Unit) Choir Universitas Kanjuruhan Malang (Parama) with the titled "Pour your love in melody, celebrate my day with your best. Your prayer my life ", Saturday (01/18/2020). This year's Anniversary also held a Solo and Vocal Group singing competition at the College level.
The theme invites us to love life. Like melodies there are happy and sad tones, and life also has joys and sorrows. Therefore, let us love this life gracefully, joyfully," said coach of Parama Irene Trisisca Rusdiyanti, M.Pd.
Besides that, the woman who works as an English Language Lecturer in Unikama also invited all students in Sarwakirti Building to like melodies.
"Melody will make life more colorful, the majority of people will listen to songs if they are happy or sad. There are some people who are more passionate about doing something if they listen a song. That is the power of melody, if we hear a song whose melody is positive then the output will also be positive, "she added.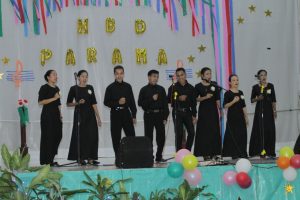 Irene hopes, in the age of 33rd Parama in the future, she can show her maturity through her programs, independence, achievements to get a point that is Unikama Superior in 2025.
Meanwhile, the competition held by Parama was participated by several Choirs from Private Universities in Malang. Around 40 students namely 3 vocal groups consisting of 10 people and 10 Solo singers. They entered this competition with a very beautiful appearance, both in terms of costumes and sound.
Meanwhile, Guido Sila Tafuli as the Chairperson of Parama also explained the theme taken, "Your prayer my life" which means your prayer is my life. He hopes that the prayers of all friends can make Parama much better.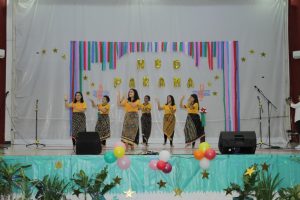 "I believe the power of prayer, if there are many who are pray, Parama will be more developed and advanced to get achievements. Hopefully with this 33rd Anniversary, Parama will also be more compact and continue to practice in order to show the best, "he explained.
Ido, who is familiarly called, also told that Parama had also conducted Conductor training. This training is intended for coryphaeus in University level with a total of around 300 participants on March 2019.
In the future, Parama will always be compact and creative in realizing Work Programs. The members of Parama are also more active in practicing and creating new works so they are worth to listening and showing for the general public.