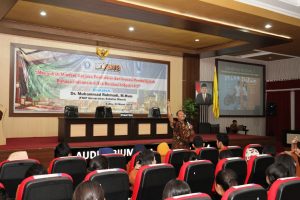 UNIKAMA – Indonesian Language and Literature Education Department, Universitas Kanjuruhan Malang (Unikama) continues to be determined to produce qualified millennial educator candidates. Among other things, through motivation which was packed in a guest lecture with the lecturers of FKIP Universitas Sebelas Maret (UNS), Dr. Muhammad Rohmadi, M. Hum at the Multicultural Auditorium, yesterday.
Rohmadi stated that as a prospective graduates of education in the digital era, must have the quality of learning innovations as well as visionaries for their students.
"We must understand very well the learning material and understand the characteristics of students in the millennial era, who are very different, so we will always be remembered and anticipated when going to teach," he said.
Meanwhile, the guest lecturer moderator, Dr. Rahutami M. Hum, the difference between the millennial generation and the baby boomer generation is one of the importance of this guest lecture.
"Especially for Indonesian Literature Education. We need to see how the education scholars want in the current industrial era, not in the colonial past, "said the woman who is also a lecturer in Indonesian Language and Literature Education.
Among them were the Chairperson of the Unikama Indonesian Language and Literature Education Department , Suryantoro M. Pd, to the ranks of Indonesian Language department lecturers, such as Muhammad Khoirul Halim, M. Pd. (erma)