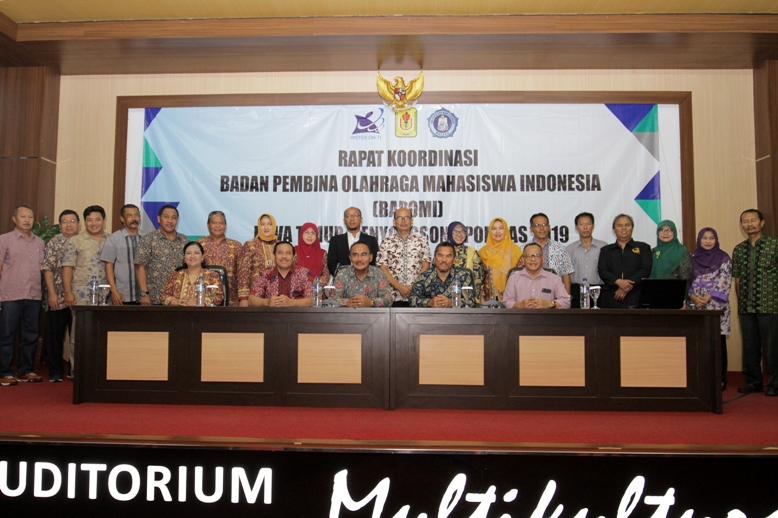 UNIKAMA – This year Universitas Kanjuruhan Malang (Unikama) became the host for the Coordination Meeting of Badan Pembina Olahraga Mahasiswa Indonesia (BAPOMI). The event was held at the Auditorium Multikultural, yesterday (14/08) attended by BAPOMI board members and opened by Dr. Pieter Sahertian, M.Si as Chancellor Unikama.
"We are very grateful Unikama is trusted become the host of the BAPOMI (East Java) coordination meeting. Hopefully East Java move up from 5th to runner-up can be realized and also Unikama ready to send at least 2 athletes, "he said.
This Coordination Meeting was held to commemorate Pekan Olahraga Mahasiswa Nasional (POMNAS) which will be held in Jakarta on September 19, 2019 with 19 sports.
Meanwhile, in his speech the Chairman of BAPOMI Dr. Mu'arifin, M.Pd explained that BAPOMI belongs to East Java both Perguruan Tinggi Negeri (PTN) and Perguruan Tinggi Swasta (PTS). There are two things that will be discussed in this meeting. First, how to identify the potential of East Java, especially about the selection of Human Resources (HR) athletes who deserve to represent East Java, the appropriate coach for athletes and looking for a reliable manager. Second, set the strategy for target achievements of POMNAS 2019.