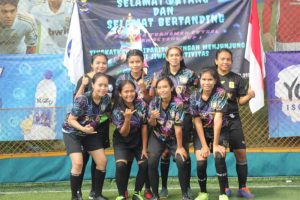 Unikama – Futsal is a type of sport that is usually favored by men. But in today's era women can also do this sport. As was done by the students of the Universitas PGRI Kanjuruhan Malang (Unikama), these 8 students won first place in the futsal tournament at the Regional Organization (Orda) level of the Central Sumba Student Association (PERMATENG) throughout Malang Raya.
The 8 students include Desi Sabarua from the Management Management Department as Team Captain, Agustina Wali who is an alumnus of the Accounting Department as Pifot, Evelin Esta Elia Manisse as Goalkeeper, Frederika Tanggela, S.Pd as Pifot, Esi Rambu Leki from Faculty of Animal Husbandry as Amkor, Sarianti Rambu Dauki alumnus of the Mathematics Education Department as a Defender, Harty from the Accounting Department as a Defender, and one person from an outside campus.
Representing the team, Evelin Esta Elia Manisse emphasized that all of this can be achieved thanks to hard work and maintaining solidarity in a group.
"We rely on our teamwork in playing futsal and listen to directions from the goalkeeper and captain. We also do practice before entering the tournament. It's not easy actually, because this is a sport that is usually done by men. But thanks to our training efforts so far, we were able to win first place, "he said.
This tournament activity is intended to commemorate Easter Day and also to get along with students.
"This futsal tournament has been done frequently, especially to commemorate the big day or anniversary of Orda. So we are used to following it, it's just for the first place this time, "he added.
He hopes that the Permasteng Orda will be increasingly recognized by people, because in the Orda there are so many positive activities. Not only that, hopefully the futsal team can also take part in national level tournaments so that they can bring the good name of their respective campuses, especially Unikama.