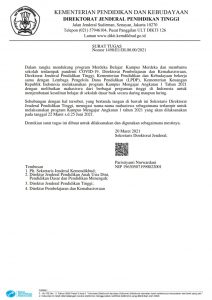 Unikama – Another proud achievement was made by students of the Universitas PGRI Kanjuruhan Malang (Unikama), a number of 53 students who have passed the selection for the Teaching Campus Program. This program is to support the Merdeka Belajar Kampus Merdeka (MBKM) curriculum which provides opportunities to study outside of higher education. Besides that, during a pandemic like this the education process at the elementary school level (SD) is not yet optimal.
Dr. Sudi Dul Aji, M.Si, as Vice Rector I, explained that the role of higher education institutions, especially in the field of education, is very much needed. Therefore, the Ministry of Education and Culture launched a campus teaching program.
"Actually this teaching campus is the second program, the first is the Perintis Teaching Campus (KMP). Unikama was also involved at that time and the success was quite good. Therefore, it will be continued with this second program in 2021 with the term teaching campus for stage I, "he explained.
There are several selection stages that are followed by students, including students registering through a teaching campus account, then entering the selection stage at the Ministry level. After that, the results of the selection were announced through a letter from the Director General of Higher Education.
"From Unikama, there are 53 students who pass administratively and can take part in this teaching campus. Overall, it involves all tertiary institutions but only 366 universities have received assignments. Not randomly, for Field Assistance Lecturers (DPL) is also screened administratively. There are five's Unikama lecturers who passed the selection, " he said.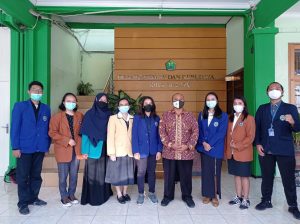 The 53 students consist of 26 students of PGSD Study Program, 3 students of Guidance and Counseling (BK), 2 students of Geography Education, 5 students of English Education, 3 students of English Literature, 8 students of Mathematics Education, 4 students of Informatics Engineering, 1 student of Information System, and Physics Education 1 student.
Students who pass the selection process will be placed in their respective regions. Currently teaching campus programs are still at the elementary level. However, not only the Primary School Teacher Education Study Program (PGSD), but also other study programs.
"This program is open to all study programs, some are non-educational. For those who have non-educational basics, it is hoped that they can provide experience and also a little description of how to get involved in the world of education, "he explained.
Non-educational students who take part in this program have the same duties, namely to provide assistance in the learning process and there is also monitoring that is still carried out.
Vice Rector I also explained that non-education study programs are currently needed in any circle. As an example of the Management Study Program, they can conduct entrepreneurship training for teachers, there is also Information Technology, which in almost all fields cannot be separated from technology.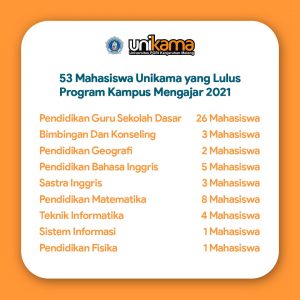 Unikama wants to provide opportunities for students who wish to study outside the Study Program. This is also an effort to support the MBKM curriculum. There are 2 semesters students have to study outside the college.
"We hope this program will run smoothly, so that the role of our students can be maximized while carrying out their duties. As well as the target in the future the students involved can be even more, "he concluded.