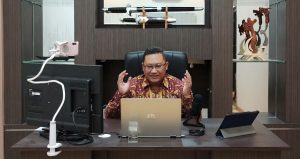 Unikama – Business and Entrepreneurship Center (BEC) Universitas PGRI Kanjuruhan Malang became an incubator who passed the selection in the 2021 Indonesian Startup Innovation (SII) program organized by the Ministry of Research and Technology / National Research and Innovation Agency (Kemenristek / BRIN).
SII 2021 carries a mission to find the best incubators who are ready to incubate future startups in Indonesia. In the process, the selection is divided into two stages, namely proposal selection and interview selection conducted by the Ministry of Research and Technology / National Agency for Research and Innovation. In addition, the indicators used in determining the selection are infrastructure, human resources and governance.
Followed by more than 100 business incubators from all over Indonesia, BEC Unikama is one of two incubators from Malang who passed the SII selection. Even though it is only one year old, in fact BEC is able to beat incubators from other, more senior universities.
Jacobus Wiwin Kuswinardi S.T., M.Kom. as the Head and Lead Coach of BEC revealed that BEC was also showing off to compete with incubators from other state universities and private universities throughout Indonesia. He believes that the quality of BEC and the support from the quality of Unikama's infrastructure and human resources will be able to make BEC move forward.
"The highest point that BEC has is human resource support, where BEC is supported by a solid management team and internationally certified coaches, mentors who have successful experience in building startups and support business networks both nationally and internationally," he said.
As one of the 64 incubators who have passed the selection, BEC will later become the incubator to provide assistance to the Indonesian Innovation Startup Program 2021. "Only incubators who pass the selection are allowed to assist Indonesian Innovation Startups," added this lecturer in Information Systems Study Program.
BEC as one of the business development units in Unikama is proof that Unikama facilitates its students to develop and be able to create startups and businesses.
"As the leader of BEC, I hope that BEC, which is the real form of an institution in facilitating campus entrepreneurship, can be optimally utilized by students and lecturers in producing new, innovative entrepreneurs across study programs, as well as a vehicle for the downstream innovation of lecturers at Unikama," the lid.