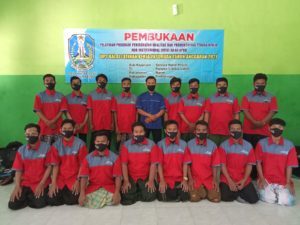 Unikama – Student of the Universitas PGRI Kanjuruhan Malang (Unikama) Edo S. Andika from the 2019 Information Technology Department (TI) Study Program conducted training at Pondok Pesantren (Ponpes) Lubbul Labib Probolinggo. He helped the instructor conduct a Smartphone Technician Training at the Ponpes which was attended by 16 male students.
He explained that he was an alumnus of the Singosari Vocational Training Center (BLK) majoring in Information Technology Department.
"Incidentally, my instructor used to work at BLK Pasuruan, then I was offered to be his assistant. So, until now I have helped to conduct training, including in this Lubbul Labib Ponpes,"he explained.
This Smartphone Technician Training aims to increase the skills of the students. Especially in today's digital era, almost all students already own and use smartphones.
"With this training, the students will also gain insight, not only being able to use it. If something is broken or has an error, they can fix it themselves. It can save on smartphone maintenance costs too, "he said.
Later, this training will also be very useful for them. If they are no longer in the Ponpes, they can open a smartphone service at home.
"This activity can also be the beginning for them to do entrepreneurship. If they want to open a smartphone Counter. Not only can you sell cards or sell credit, but you can also service smartphones," he explained.
Most people using smartphones often experience damage to the LCD, power IC, Emmc IC, flash, and also forget the password pattern.
"So it really takes skills to fix the damage to this smartphone, not just playing with it and taking it apart," he concluded.
He hopes that in the future he can become a training instructor, so he can carry out his own training. With this training, it can motivate the community, especially young people, to create their own jobs.