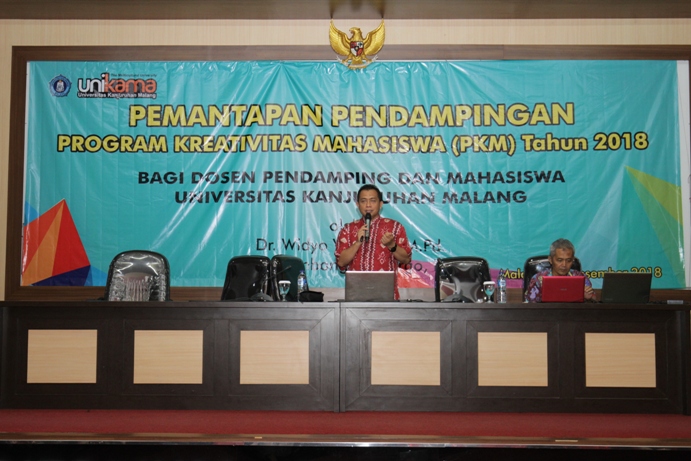 UNIKAMA – In Industrial Revolution Era 4.0, The University continue to prepare a quality of graduates. Not only the quality itself, the graduates give a benefit to the community are a priority for every campus. As a multicultural campus, Universitas Kanjuruhan Malang (Unikama) held a Stabilization of Assistance for Student Creativity Program (PKM) in 2018. The activity that presented National reviewer Dr. Ir. Bambang Dwi Argo, DEA and Dr. Widyo Winarso, M.Pd, took place at the Multicultural Auditorium, yesterday.
Deputy Chancellor III Dr. Joice Soraya, SH., M.Hum, in his remarks stressed that 2019 will lead to upholding the campus's reputation through various achievements, including competitions in this year's PKM. "We encourage student creativity in various fields, this is also part of welcoming the Unikama's Excellent 2025," added the woman wearing red when opening the event.
This activity is intended for accompanying lecturers and students. "This activity is only for accompanying lecturers and students, also added by the Chairperson of the Study Program (Head of Study Program) in Unikama. In addition, to equip lecturers and students to be more prepared and selective both administratively and substantively, "said committee chairman Ihsan Abrama.
In the preparation of the PKM proposal, the speaker I Bambang was a nickname, explaining some of the mistakes in proposing the PKM. "Administrative errors are often encountered, for example cover, table of contents and other systematics. To go through the National Scientific Week (PIMNAS) there are several stages in PKM, for example, administrative, substantive, monitoring and evaluation (monev) stages, and PIMNAS, "said Lecturer at Universitas Brawijaya.
Thus, this must be anticipated especially by accompanying lecturers who have an important role before being proposed to the Directorate General of Learning and Student Affairs (Directorate General of Belmawa) of the Ministry of Research, Technology and Higher Education. he added.
Meanwhile, the secretary of LLDIKTI Region VII presents how successful PKM and PIMNAS are. He explained, that PT policy, Leadership Commitment, Commitment of accompanying lecturers would be an encouragement for future student success. "In addition, guidance and student systems are equally important, meaning that each campus must reconstruct the management of PKM and PIMNAS so that students are more passionate about achieving," said Widyo, who was familiar with the Secretary of LLDIKTI. (mr.dont)