UNIKAMA – BEC (Business and Entrepreneurship Center) is a unit of the Universitas PGRI Kanjuruhan Malang (Unikama) which houses young entrepreneur candidates, especially Unikama students who want to join as young entrepreneurs. This BEC is a business center based on technopreneurs, sociopreneurs and edupreneurs fostered by Jacobus Wiwin Kuswinardi, S.T., M.Kom as Director of BEC.
When met in his room, Armando Orlan, S.Pd, as a Unikama alumnus and also the BEC Manager, currently emphasized that every semester approximately 120 students join BEC.
"It's not easy to join BEC, because you have to go through several stages of selection to become a new Start Up. The stages that a new Start Up candidate must go through during the incubation period include the opening of the UNIKAMA Entrepreneurship program, sprint design, design thinking, value proposition design, business model canvas (BMC), pitching, sprint, pitching skills, reviews and finally events or competitions," he explained.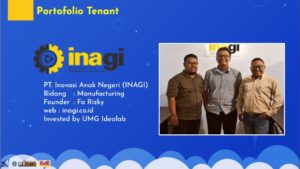 BEC itself provides guidance to new Start Up candidates every weekend. So, once a week and mentored by Start Up mentors and professional coaches. BEC collaborates with business professional coach services from Cataliz.
"By joining BEC Unikama, it can change the mindset of students to create new works and continue to innovate. Not only that, innovation must also be developed and disseminated so that the benefits can be felt by the wider community," he said.
Orland continued, as an alumni, he felt the benefits of joining BEC during the lecture period. "Experience in the field of business, especially, especially when digital-based businesses are currently developing. Running this business also requires guidance so that it can continue to improve its business," he added.
Not immediately starting a new business, Unikama students who are members of the BEC will be invited to find problems first. The problems that exist in society, what is needed by the community today so that later they can make products to help solve these problems. With a system like this, new startups will have no trouble determining the market.
"BEC Unikama has given birth to 2 Start Up Outs, namely Start Ups from outside the campus that take part in BEC Unikama, namely INAGI and MomChips. Meanwhile, the Inwal from within the campus or Unikama students themselves, namely Blantix, Qur'an class, nukanghup (construction service provider application) and rajacash.id, these applications are currently being developed and disseminated," he explained.
He hopes that in the future more and more students will join BEC Unikama because it is proven that taking part in BEC during the lecture period will change the mindset of students and can become innovative young entrepreneurs especially in this digital era.